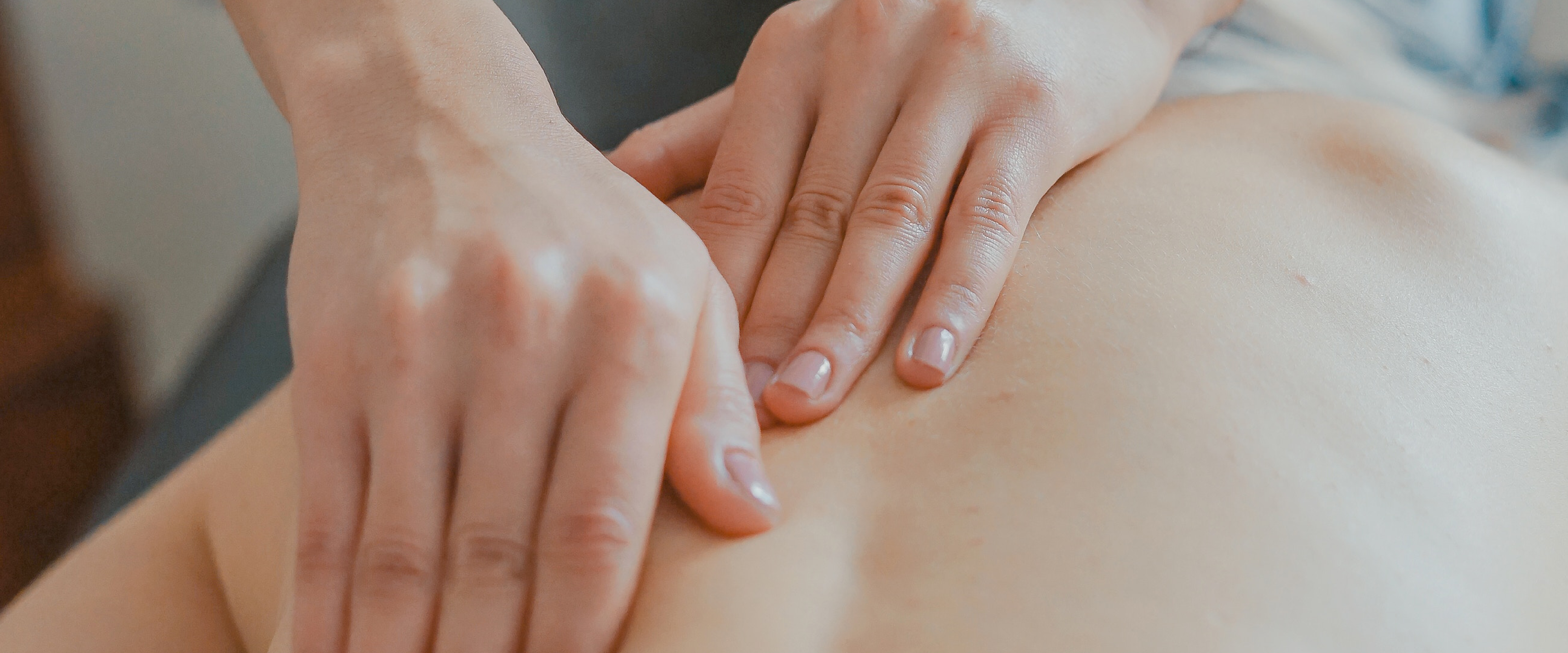 Bosnar Health Practitioners
What is Massage Therapy
The hands-on manipulation of the soft tissues of the body, such as the muscles, tendons, ligaments, connective tissue and joints in order to optimize whole body wellness. Acting on the muscular, circulatory and nervous systems, the therapeutic effect that massage therapy has on the body relieves a variety of discomforts and achieves undeniable results.
It can be restorative, supporting rehabilitation or relieving pain, as well as preventative, by helping to maintain and optimize physical function. Using a combined knowledge of physiology and anatomy, massage therapy has firmly established its role in the treatment and prevention of physical dysfunction.
---
Why Massage Therapy
Massage can help to alleviate the discomfort of everyday stress, muscular overuse and chronic pain. If employed early enough after accidents involving trauma or injury, massage therapy can exponentially reduce the development of painful muscular patterning.
Massage can help relieve inflammatory conditions such as arthritis and tendonitis, headaches and migraines, muscle spasms, strains and sprains, back pain, repetitive strain injuries, circulatory and respiratory problems, pregnancy and labour discomfort, post-injury and post surgical rehabilitation as well as many other conditions. Massage will enhance your overall sense of well being both physically and emotionally, and is most effective when used as preventative medicine.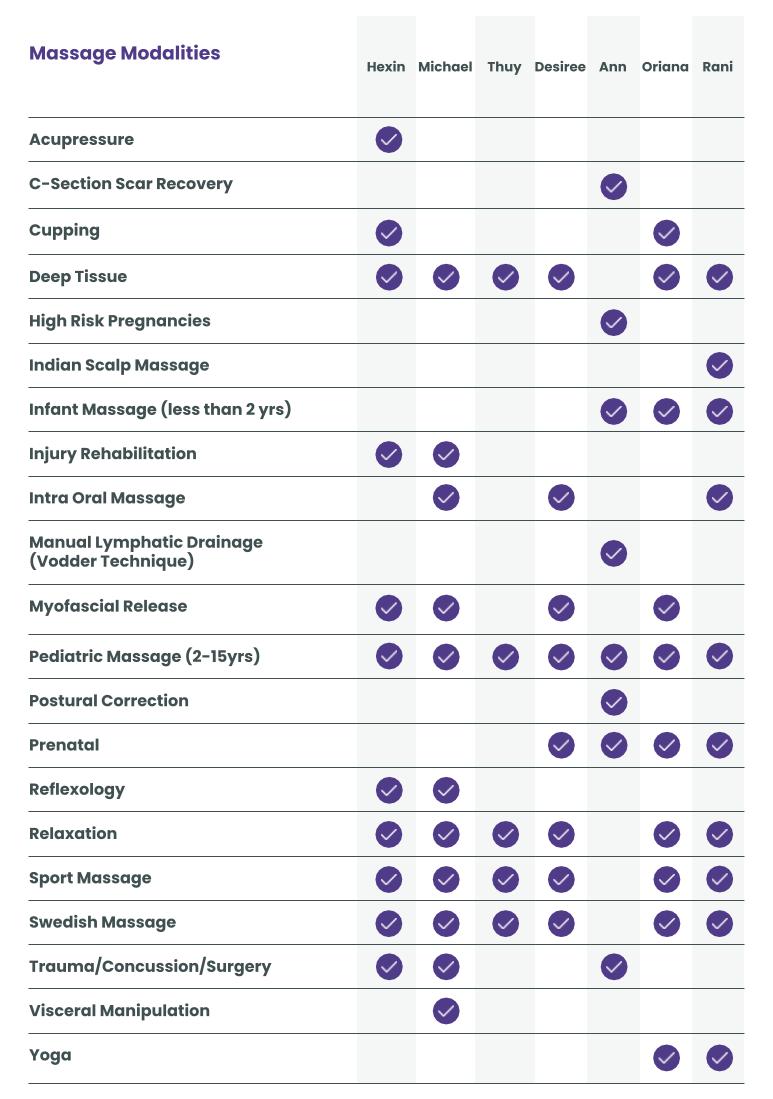 Child/Infant Massage (less than 6)
Massage for Infants and Children, up to age 6. We recommend 45 minute maximum appointments for this age.
For Booking: An Infant/Child Massage Therapy Treatment
Cupping
Using suction and negative pressure to loosen muscles, encourage circulation and help with pain, inflammation, stiff muscles, anxiety, fatigue and well-being.
For Booking: A Cupping Massage Therapy Treatment
Deep Tissue
Similar to swedish massage, this modality uses deep, firm pressure and slow strokes to release chronic muscle tension.
For Booking: A Massage Therapy Treatment
High-Risk Pregnancies
Using various positioning, modifications and acupressure to ensure safe treatment for reducing stress, pain and other concerns related to high-risk pregnancies.
For Booking: A High Risk Pregnancy Massage Therapy Treatment
Manual Lymphatic Drainage (Vodder Technique)
Considered the "Gold Standard" of MLD training techniques. A gentle manual treatment using very light pressure to stimulate lymph fluid movement. Supportive for patients with Lymphedema, arthritis, post surgery, swelling, eczema etc.
For Booking: A Manual Lymphatic Drainage Massage Therapy Treatment
Myofascial Release
Applies a gentle and sustained pressure into the myofascial connective  tissue constraints to reduce or eliminate pain and restore range of motion.
For Booking: A Massage Therapy Treatment
Pediatric Massage (6-15)
Massage for Children and Youths, aged 6 to 15.
For Booking: A Pediatric Massage Therapy Treatment
Prenatal
Relieves the normal discomforts associated with pregnancy (ie. stiff neck, backaches, headaches, swelling, leg cramps etc.).
For Booking: A Prenatal Massage Therapy Treatment
Meditation Massage
This whole body wellness treatment incorporates both therapeutic massage and guided meditation. Begin your experience with a relaxing head, neck & shoulder massage, followed by 30 minutes of guided meditation, closing with a grounding foot massage. A truly unique wellness-focused experience.                                        For Booking: A Meditation Massage Therapy Treatment or a 15 Minute Guided Meditation add-on
Hot Stone
Smooth, flat and heated stones are placed strategically on the body for the ultimate in relaxation and pain relief.
For Booking: A Hot Stone Massage Therapy Treatment
Relaxation
A smooth, flowing and gentle style that improves circulation and range of movement while relieving muscle tension and promoting relaxation.
For Booking: A Massage Therapy Treatment
Sport Massage
Improves performance, prevents injury as well as relieves pain using techniques to support the body in recovery from injuries associated with physical activity.
For Booking: A Massage Therapy Treatment
Swedish Massage
The foundation for most massage techniques and the most commonly used general-purpose massage modality.
For Booking: A Massage Therapy Treatment
Yoga
An old discipline that is both spiritual and physical combining breathing techniques, exercise and meditation to improve health and happiness.
For Booking: A Massage Therapy Treatment
Frequency Asked Questions
1. Can anyone receive massage therapy?
Yes, massage therapy is appropriate for individuals of all ages, including infants, children, and the elderly; however, there are some conditions for which massage therapy is not appropriate. A qualified Massage Therapist (RMT or MT) is trained to recognize these cases.
Many Massage Therapists treat a variety of diseases and disorders while other Massage Therapists concentrate on certain conditions (fibromyalgia) or groups of people such as athletes, performers, women during pregnancy (including labour and delivery), infants and children. When booking your first consultation, be sure that the Massage Therapist is the right choice for you.
2. Do I have to remove all my clothing for massage therapy?
No. Your comfort as a client is of the utmost to all Registered Massage Therapists, whether that is in the context of the clothing you wear or the treatment you receive. Massage Therapists can provide important treatment whether you elect to remove any, some, or all of your clothing. All RMTs are trained in proper draping procedures to ensure that your privacy is completely respected at all times during treatment. Your comfort and ability to relax is paramount to effective treatment.
Registered Massage Therapists will also describe the treatments to be provided to ensure that you are comfortable with them. Your consent is sought before treatment is provided. If you are uncomfortable, your RMT wants you to let them know immediately, whether that discomfort involves the treatment, draping or any pain you may experience.
Be sure and discuss the most effective means of treatment with your Massage Therapist.
3. Why do Massage Therapists charge HST?
Massage therapy is a service to which GST was applied. While massage therapists are considered health care practitioners under Ontario Regulated Health Professions Act, 1991, massage therapy is not included in the definition of health services that are exempt from the application of the HST.
4. How often should I have massage therapy?
Massage therapy is most beneficial in acute conditions when used over a series of treatments and then followed up with maintenance or preventive treatments.
Through mutual discussion, your Massage Therapist can help you establish a program which fits your physical needs and lifestyle. Your Massage Therapist is most interested in your recovery and in the maintenance of your health. Any recommendation for further treatment is being made by a qualified health professional and is made with your utmost care in mind.
5. What happens on the first visit?
On the first visit you will complete a confidential health history as part of your assessment. This is important as the Massage Therapist needs to know if you have any medical conditions or are taking any medications. The Massage Therapist will listen to your concerns, assess your individual needs as well as other factors that may be contributing to your injury (lifestyle, nutritional status, etc.). The Massage Therapist will then develop a treatment plan with you to ensure you receive appropriate treatment that will help you return, as much as possible, to your normal activities.
Bosnar Health

Our collaborative team blends world-class clinical expertise with an empathetic, patient-led approach.
Visit Us

155 Redpath Avenue
Toronto, ON
M4P 2K5